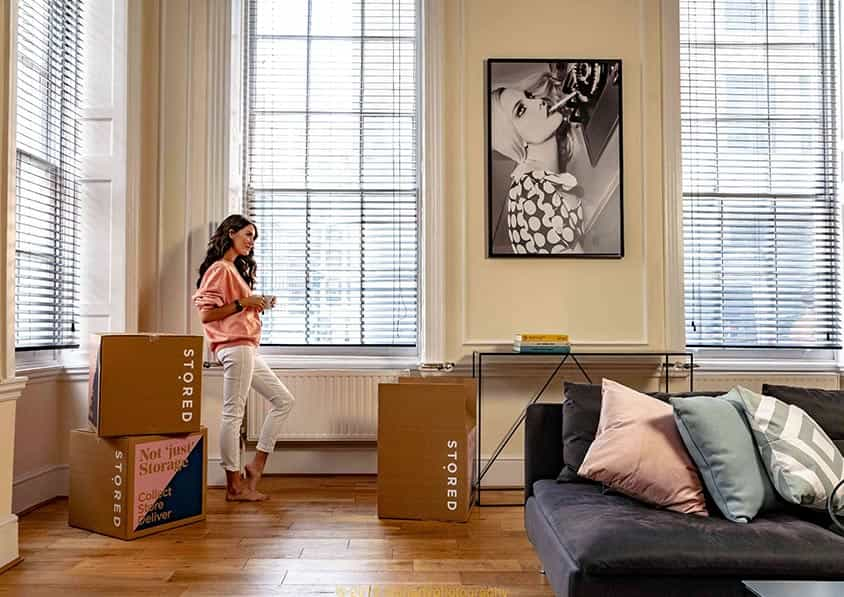 STORED Cheap Storage Units in London for Home Use
STORED's cheap storage units are not only suited for people moving to a new house or students but are just as much needed by everyone else for different reasons.
You probably fret over the lack of space to put everything in daily. If you have searched for "cheap storage units" or "long term self storage facilities near me", you are precisely the type of person that will appreciate the cheap storage units offered by STORED.
What makes STORED's cheap storage services stand out compared to self storage units is their exceptional customer service, along with all the additional services that are offered, such as FREE collection!
Typically, self storage units require you to pack your stuff and transport it to your selected unit yourself. However, STORED offers you a door-to-door cheap storage service that will do all the hard work at a low price!
We pick your items up from your doorstep and take them to the storage units. You can book a return whenever you need everything back, and your belongings will be returned where you want them!
Coming in various sizes and holding all sorts of things, STORED's cheap storage units are ideal for you if you need to store the extra sports equipment you have for fun family sports events, gardening tools and equipment, your camping gear, etc.!
Short and long term storage units have never been so economical.
If you are a fashionista, you probably have an overflowing wardrobe and need to keep the clothing not in season out of the way.
Free up some wardrobe space by utilising STORED's cheap storage services! Your home deserves to be organised and spacious, and we can take the extra stuff off your hands.
We offer a convenient and hassle-free arrangement. All this stuff will be picked up from your doorstep and safely put away to complete a better service than renting self storage units. Enjoy the extra room at your house or apartment!
Everyone needs a cheap storage space at some time, and we provide a service that cares about your situation and your budget! We are priced much lower than the costs you would incur if you were renting self storage units.
You can also get great deals on long-term storage units to store your bulkier items, like your extra furniture, after moving your house or getting new furniture.
Perhaps you have extra chairs for parties, a projector for your garden, some old statues, and a million other things that you use once in a blue moon! We keep everything safe and sound.
When renting long-term storage units for over six months, you can avail a fantastic 35% off rental price.
With such fantastic deals, there is no need to search for "storage facilities near me" and you can opt for STORED. We pick up your belongings from any London address without you having to go anywhere.
And we re-emphasise, the best part about our cheap storage service is it is all-inclusive.
That means you call us, we help you pack and disassemble, pick up the stuff from your address, take your things to the storage units, and then you can book a return when you require it.
Our service comes with a moving van and a two-person team to help handle your belongings! A complete STORED service offers much cheaper storage than those offering self-storage units!
We offer both short-term and long term storage at incredible prices. We don't just rent out self storage units, but we provide a full-fledged complete solution that goes from your doorstep to the storage unit and back!
So it's definitely very convenient storage, but since you aren't doing anything, it's not "self storage" anymore!