Having a lemonade in your garden on a lovely sunny day, a small cosy get-together with friends or a fun bar-b-q with family in your backyard is nothing less of a blessing. Owning a garden or a backyard can be the most fun time you spend during summer vacations.
Building the perfect outdoor getaway with the best and most functional garden furniture can be fun and easy. What's more challenging is knowing the right way to care for your outdoor furniture. Protecting it from heightened temperatures, water, and sun damage is very important if you wish to enjoy it every summer.
While most outdoor furniture has a rust-free powder coating, rust-resistant wood and UV-protected covers and filling, a little extra care will go a long way! Follow our guide to keep your outdoor furniture looking amazing and useful for years.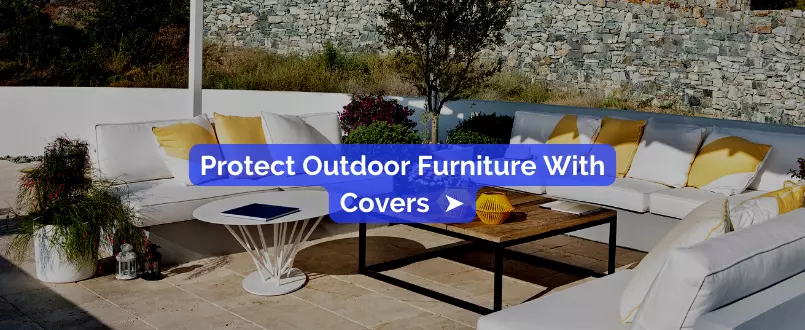 Protect Outdoor Furniture With Covers
First and foremost, opt for outdoor furniture coverings. Even if your outdoor furniture is placed under a shade and there isn't enough sunlight to cause damage, it's still better to be careful. You must consider dust damage and keep your garden furniture items covered when not used.
Invest in great quality covers with highly durable materials to ensure your furniture is fully protected against harmful weather conditions like precipitation. Heavy-duty polyester is an excellent choice; it will keep your outdoor items looking new no matter how harsh the weather gets.
Lastly, the covers should fit comfortably over each piece covering every nook and cranny. Hence, take measurements, so the cover isn't too small, tight, too big or loose. And remember to avoid covers that seal the furniture underneath for the much-needed airflow.
Clean The Wooden Furniture Often
Remember to wipe the tables, dust off the chairs, and immediately keep everything back in place when you use your garden furniture. The longer you delay the work, the longer it will keep on building up and become overwhelming when it's finally time to use it again.
If you have wooden furniture, a thorough clean once a year to remove algae build-up, dirt and bird droppings will do good. Most importantly, you need to take extra care in the winter because soil actually holds onto moisture, causing additional damage if left unattended.  If you be careless dirty furniture will stay damp all winter and be more susceptible to decay.
Even if you plan to store your wooden furniture in a garage or a shed during winter, it will be best to clean it first and ensure it's thoroughly dry. A little extra care will ensure no dirt gets dried on the wood and causes deterioration.
Rent A Climate-Controlled Storage Unit
If you feel taking care of your patio furniture during winter is tedious and challenging, renting a storage unit is the best option. Professional and experienced companies like STORED offer the service of packing. The efficient team will arrive at your doorstep with all the necessary packing materials and carefully pack every item.
Now that you know which storage company to go for, you should know the importance of climate-controlled storage units when storing furniture. A climate-controlled storage unit will keep your steel, wrought iron, aluminium, plastic, wicker, rattan, fabric and wooden garden furniture safe from rust, mould, mildew and dampness.
Climate-controlled storage units regulate the temperature within the unit and maintain it no matter how cold or hot it is outside. They also keep humidity levels at bay, so extra moisture doesn't harm your belongings. However, they cost more than regular storage units, but they are worth spending a little extra instead of regretting later.
Move The Furniture Under A Shelter
If you don't plan to rent a storage unit for whatever reason and wish to keep your exterior furniture home, then move it all under a shelter or shade. You dont want it to sit on the wet ground over the winter season. 
No matter how cold it gets during winter, moving it to a more sheltered area of your garden or backyard will protect it from the damage caused by dust, wind, rain and snow.
Consider shifting the furniture onto a paved flat surface to decrease moisture exposure. If it's not possible to move your wooden or ceramic furniture and it must stay on the lawn, treat the legs with a good layer of protectant spray. You can also place flat stones under each foot to rise above the wet grass for maximum protection.
Lastly, if you have lightweight plastic furniture, it's more likely to be blown away by strong winds and can easily be damaged. It's wiser to move it all to a sheltered spot to reduce damage to the rest of the garden and the plastic furniture pieces.
Protect Furniture Before You Start Packing
It's essential to provide maximum protection to your garden furniture before you start packing it to be sent to a storage facility or even if you plan to store it at home. If you own aluminium outdoor furniture, don't forget to purchase sealant paste wax to keep it from rusting and changing colour. It's like sunscreen for your tables, couches and chairs!
If you have opted for metal furniture, then first and foremost, wipe off the dust particles, and remove any rusting or corroding before you apply a fresh coat of primer and paint. Lastly, use a good layer of paste wax once the paint has dried off.
To protect plastic garden furniture from extreme weather conditions, there's a massive variety of outdoor furniture protectant sprays and pastes that you can purchase. Remember to use it before shifting it all to the shed, garage or under the shade. If you skip it, overexposure to the sun can fade and crack your plastic furniture.
In Conclusion
There you have it – everything you need to know to protect your outdoor garden furniture over winter. Carefully following the tips mentioned above, you can enjoy outdoor furniture in spring and summer again. You will be glad you made the extra effort!