Even though we live in the digital age, there's no denying the power of physical books and people's love and appreciation for them. The feel of physical pages gliding between your fingers, the earthy smell of old books and the inky smell of the new ones are unmatchable.
Whether you own a library full of books, a single bookshelf of your favourite hardcovers or scattered bookshelves all over the house displaying your collection, we are here to guide you with bookshelf decor. It can be daunting, but with our tips and tricks, you can make the most of your shelves!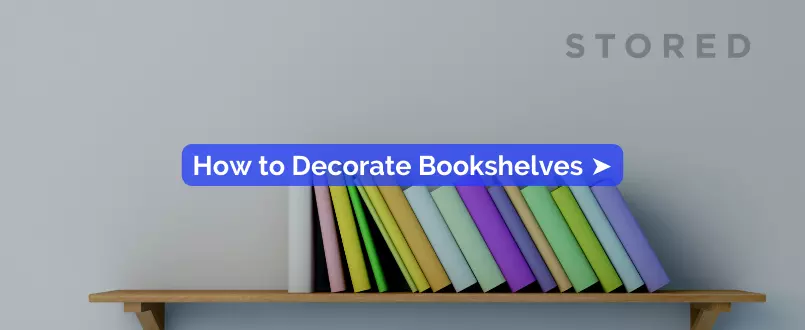 How to Decorate Bookshelves?
Besides serving storage units purpose for books, bookshelves also add character and beauty to any room, be it your living room, bedroom or hall. Personalising it should be fun and a great way to channelise your creative side.
Hence, we've broken down our tips into manageable steps to simplify the process. You can choose the ones that go best with your style and practicality. Our simple strategies will help you create a functional bookshelf that looks great and enhances the room's look.
Clean the Shelves Thoroughly
First and foremost, you should start from a clean slate. Take out everything from your shelf and do a thorough clean. Wipe the shelves with a mild cleaner and dust off all your books and other accessories.
Trust us; you will make your life much easier if you start with a clean, empty bookshelf. And if you just purchased a new bookshelf, you're already done with this step. Now you're ready for a fresh start!
Next, if there are items that don't belong on the shelf, like toys, return them to their original spot. Speaking of toys, for small space toy storage ideas, you can rent a storage unit by STORED to store precious toys your children have outgrown. If you can't part with them, simply keep them in safe, spacious, cheap storage units by STORED.
Declutter, Donate, Sell
Decluttering is not only good for maintaining a healthy balance between your possessions, but it also gives you peace of mind. Either donate or sell all the books and other items on your bookshelves that have no space in your mind and heart.
It's not worth clinging to your school and college textbooks or books you didn't enjoy. If a book has served you well but holds no place in your home, it's time to dispose of it. Go ahead and start a donation pile. You will feel great because now you have space for new books!
Add Baskets
If you like to read all sorts of books, including fiction and non-fiction, you must have some odd-shaped books. Add a basket or two to display these books. It might be challenging to correctly place such odd-shaped books on the shelf, so these baskets are a life saviour!
Also, if you have random items in your collection that don't exactly have a home, consider putting one or two decorative baskets on the bottom shelf of the bookcase for these items. Baskets are a great way to give a home to smaller things without cluttering up the overall look of a bookcase.
There are wide varieties available for baskets you can choose from, wicker, plastic, rattan, fabric, coiled, woven, twined etc. Choose whichever goes with your aesthetics and budget.
Experiment With Rows and Stacks
Keep your shelf looking interesting by displaying various books like novels and stacks of coffee table books. Arrange them in piles and rows to give a versatile look. Keep experimenting until you are satisfied.
Stacking books horizontally on each shelf can be tempting, as this setup is often visually appealing but can get repetitive. Try two, four, or five stacks if your shelf height allows. Stand some books vertically as well. You can mix and match the arrangement, adding personality and function.
Place Decorative Pieces
Who says bookshelves are exclusively for books? Adding attractive pieces like artwork and decorative vases can add charm to your shelves. You can colour coordinate them or arrange them by their shapes and sizes.
Place your books in place first, then add decorative items like framed photos, small plants, souvenirs from trips, and bookish items like a mini typewriter or a special pen.
Keep playing around with your arrangement until you're happy with it. However, be mindful of the number of items you place. You don't want to overcrowd the shelf and make your space look chaotic.
Remember The Rule of Three
This next tip will help you decorate your shelf if you get stuck while placing decorative items correctly. Remember, never underestimate the power of threes. You can create a group of three vases of different heights or three objects of different styles. This rule will give a put-together look to your bookshelf.
The trick is to arrange items in clusters. Don't be afraid to overlap them, even if it means part of one object won't be as visible. It's not only going to add depth to your bookshelf, but it will look aesthetically pleasing as well.
Go Bold With Colour
If you are not thrilled with your solid white or brown built-ins or bookshelves, go ahead and paint them. You can choose a bold colour like tangerine or purple or embrace a subtle look by opting for a beige or black. Soft, light colours make a small room look bigger if that's your concern.
A fresh coat of paint will completely transform the look of your entire room. It's going to make your bookcase the focal point of your room. However, remember the area's setting and the colours incorporated so it doesn't look out of place.
Lastly, try painting the back of the bookcase. It will create a fresh, unique look that instantly freshens up a room. Choose whichever colour suits you best! To stay classy, you can keep the trims white or the natural colour of the wood.
Focus Only On Books
A bookshelf doesn't need decorative items to look nice. Books in themselves, with their colourful and creative spines, are enough to add to the beauty. As far as how to go about arranging them, we have a few options.
The first option is to arrange your books by size, starting with larger books on the lower shelves. Arrange the smaller ones on the top shelves. It will keep the bookshelf sturdy and look tidy too.
The next option, if you're all about aesthetics, consider sorting all your books into a rainbow. It will take some time to arrange them all in the same colour, but it will look very pleasing to the eye.
Lastly, if you have a variety of books in your collection, sort them by genre. It will make it easier to find the one you're looking for later. Putting books in an orderly fashion will make you feel like you're operating your mini library!
Add Creative Bookends
Incorporating bookends into your bookshelf is another excellent way to personalise it. They serve as functional pieces supporting your books and keeping them organised. Bookends come in all shapes, sizes and materials, which means they can also be beautiful statement pieces on their own.
Bookends can also be made from many different materials and can be carved or painted. You can make a pair yourself if you don't want to spend much on bookends. Get crafty and DIY your one-of-a-kind bookends that suit your taste and space.
Try Quirky Bookshelf Designs
Many people have floor-to-ceiling bookshelves and basic bookcases with horizontal shelves; if you wish to personalise your bookshelf truly, get a customised one. You can get floating racks in various textures and colours, open back shelves, or even a glass bookcase displayed as a divider.
You may not open a book as often as you'd like, but walking past the shelves that hold them is something you experience daily. Having the bookshelf of your dreams and the chance to admire it whenever you want is a feeling of true happiness.
However, getting a customised bookshelf might cost you more than getting one from a furniture shop, but it's worth every penny if you are a bibliophile. Also, if you are short on space, you can design a corner freestanding bookshelf and assemble your book collection horizontally and vertically to create a sense of interest.
Decorate Slowly but Surely
One-stop home decor stores are fantastic for adding decorative items to your bookcase. However, they aren't the answer if you wish to add a unique, personal touch to your space. Take your time personalising the bookshelf.
Opt to curate your accent pieces over time rather than making one bulk purchase. The best way to proceed is to keep an eye out while travelling for antique and classy pieces. Purchase the ones that speak to you! You can also get second-hand items from thrift shops if you are on a budget.
Remember, this way, you will make more thoughtful purchases and have a story about each item you display. The pieces you select don't have to be expensive. It just has to go with your style and feel special to you.
Incorporate Art
If you aren't too keen on the "books only" idea, then artwork incorporated with books will look wonderful. Be as creative as possible; it's not like you are looking for boring shoe storage ideas! Layer a few pieces alongside a stack of books, and you're golden.
Furthermore, you don't have to worry about sticking to one specific theme or medium. You can mix and match however you like. Try setting a framed monochrome photo on one shelf and placing a vibrant abstract on another.
If you are on a tight budget, you can DIY your artwork or support local small-scale artists. However, don't overwhelm your bookshelf by incorporating artwork on each shelf. Move around paintings and frames to see what looks best and compliments the room.
Summing it Up
Whether you have a new bookshelf to fill or are tired of looking at your old one, we hope our tips and tricks help you achieve a perfectly arranged and decorated bookshelf you admire with all your heart.