Finding the best way to store furniture can be tricky. There are many factors to remember so your furniture doesn't get stolen or damaged. You can rent a storage unit, ask a friend to lend you their garage for some time or store it all in the attic.
No matter what you choose, we have some tips and tricks to make your furniture last a long time. There can be many reasons to store extra furniture, before or after moving, to add space to a home or clear an office.
We have compiled a list of some best practices for storing furniture to ensure your belongings remain as safe and intact as possible. Following these tips can make the furniture storage process easy and efficient.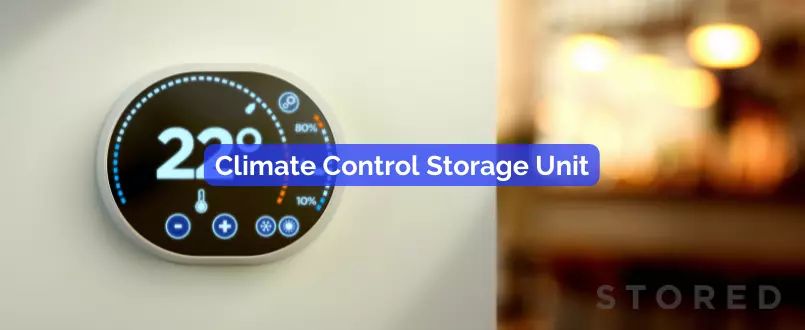 Consider Climate-Controlled Storage Unit
We recommend renting a storage unit, but it's important to know which storage unit is best suited to store furniture. A climate-controlled storage unit is perfect for storing furniture made of wood and various fabrics.
With advanced thermostats, a climate-controlled storage unit can maintain extreme temperature and humidity levels throughout the year. It helps avoid excessive heat, cold and moisture from causing damage to your furniture items.
A climate-controlled storage unit by STORED will also give you maximum security 24/7. Their storage units are spacious, well-lit, and thoroughly cleaned. On top of that, a climate-controlled storage unit will prevent mould, mildew and rot from developing on your furniture pieces. It will also protect your furniture against cracking.
Clean Every Piece Thoroughly
When storing furniture, remember never to put dirty items, no matter how small. If you make the mistake of storing dirty furniture, it will create offensive odours. Also, cleaning will significantly increase when you remove them from the unit. On top of that, mould and dust will grow substantially in your storage unit.
We have a few tips on properly cleaning your furniture before sending it off to the storage unit or garage. With wooden or plastic furniture, wipe off excess dirt, then use mild soapy water to clean off properly. Invest in a top-notch wood cleaner to protect the finish and polish of your antique wooden items.
Lastly, if you have fabric sofas and seat cushions, wash them off with an upholstery cleaner. Remember to dry off everything before you start packing up. To remove any existing oxidation and to avoid tarnishing, polish the metal finishes with a polishing cloth and metal cleaner.
Properly Safeguard Your Furniture
Avoiding furniture damage or breakage in a storage unit is as essential as packing everything properly. Cleaning it thoroughly is not enough to keep it safe for long-term storage. Cover your furniture evenly so any dust particles can not make it dirty while in storage. Get the right cover, so it does the job 100%.
If you want to store wood furniture, secure it with bubble wrap to prevent scratches and dents. If you don't have furniture covers, then you can place bedsheets or blankets over upholstered and leather items to keep them safe. Don't place plastic sheets over them. It traps moisture, developing an awful, musty smell and even getting mouldy.
Lastly, wrap legs and any protruding parts of the furniture piece that are most likely to break in bubble wrap or soft cloths for maximum protection. Another great tip to remember is never apply packing tape directly to the furniture. Not only will it not stick properly, but it might chip off the polish and paint, causing unwanted damage.
Organise Your Storage Unit Strategically
If you opt for a storage unit, you must remember how important it is to stack and organise everything strategically for easy access. It might seem simple, but you have to be cautious with placement in long-term storage for a better experience.
If possible, keep the furniture elevated on pallets. It will provide additional airflow around each piece, preventing cramming and humidity. A good rule is to leave at least two inches of free space on every side of your furniture. Additionally, avoid stacking anything on top of your furniture because it can lead to warping.
It can be tempting to pack your items tightly, but the damage it can cause in long-term storage is not worth saving money. Use your storage space effectively. Save space wherever and whenever possible. Create an aisle in your unit to ensure you can easily access all your items.
Disassemble Big Pieces and Label Everything
We understand how big a nuisance can be if you can't find the bits and odds of a furniture piece when you start reassembling. Keep everything together when storing accessories for your more oversized items. Either keep them in a ziplock bag or a container. Don't forget to label them!
Storing furniture in pieces is helpful because pressure or gradual warping over time can cause breakage along joints and seams. However, you do not need to break your furniture down completely. Instead, remove legs, take out drawers and knobs and handles, and remove bed rails; it will make the storing process more manageable and safer.
Lastly, label everything to ensure you can get the pieces back together again. You can go one step further and take a few photos and notes while taking them apart. Pro tip: Mention the number of screws, handles and knobs, etc., when labelling.
Confirm the Safety of Your Storage Selection
You must ensure that your belongings will remain safe and secure from theft and other damage, no matter what you select as your means of storage. Be it a storage company, the attic of your house or a rented garage.
It will be easy to select STORED as your storage company since it provides 24/7 security with camera surveillance and dual locks on all doors. Besides, STORED's storage units are top notch and their services highly professional, hassle-free and affordable.
There have been cases of people's garages, attics and insecure facilities getting broken into. Hence, it's essential to get insurance. No matter how safe the storage space is, it's better to be cautious than sorry. It's worth spending a little more each month on insurance than bearing the loss of stolen or damaged items.
Make sure you follow our guidelines when storing furniture to make the most out of your storage experience.